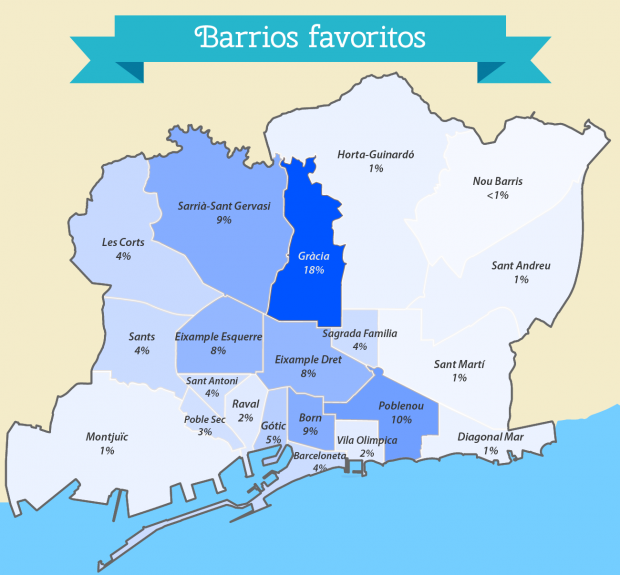 Barcelona is divided into 27 districts and there is something for everyone. I've been in contact with a local rental agency that has done a survey about what expats like the most in the city. They've asked 850 foreigners that have been living in Barcelona since at least 3 months ago and have answered some questions about life in the city such as: What is the best area to live in Barcelona? Below you will find the results of the survey with an infographic. The top 3 best neighborhoods are: Gracia (18%), Poblenou (10%) and Sarrià – Sant Gervasi (9%). In this article we present these three neighborhoods with comments from foreigners who responded to the survey.
GRACIA
The preferred neighborhood according to our survey is Gràcia with 18%. There is a general opinion that Gracia is the best neighborhood to live in. If we analyze the results according to nationality it is confirmed that Gracia is the clearly favorite neighborhood to experience an authentic Barcelona life.
The comments of the respondents:
"Neighborhood with a good atmosphere. You have little traffic since many streets are one way." / "It is a neighborhood that has the architecture and atmosphere of a small city in the center of the metropolis." / "It is a very welcoming area where you can breathe an authentic Barcelona culture. It has a lot of small bars and shops. / "The district has everything that may be needed and still retains a genuine feel for the most part."
Related: Barcelona trying to tame tourism crunch
POBLE NOU
Poblenou is also one of the favorite neighborhoods by foreigners with 10% among those who think it is the best neighborhood in Barcelona. It is the old industrial district and today is an area that is transformed. Lofts and skyscrapers like the Agbar Tower near the beaches. La Rambla del Poblenou remains authentic, so we find that there is a kind of mixture, which makes the neighborhood multicultural. The architecture looks futuristic for a neighborhood that is built little by little, keeping its soul with buildings such as the Vila Casas Foundation and the Music Museum.
The comments of the respondents:
"Clean neighborhood with open spaces, beach and free parking spaces." / "Authentic, family-friendly, near the sea, not far from the center." / "It's like a town in the city and the sea is next door." / "It is not in the center of the city and therefore less noisy. It is close to the beach and offers many services." / "Close to work and beaches."
Sarrià – Sant Gervasi
Sarrià Sant Gervasi is a residential and quiet area in the upper part of Barcelona. Here you will feel in another city with an authentic atmosphere. This area has many green areas with gardens and parks. The architecture is elegant and approaches the London style. Moreover it is very well connected with public transport and you can reach the center of the city in a few minutes.
The comments of the respondents:
"It's a quiet neighborhood near the center. Its streets and buildings are in good condition and have enough spaces." / "There is less traffic." / "Compared to other districts the city has a good level of security." / "Quiet, but not too much. It is safe and close to downtown." / "The neighborhood has everything and is quiet."
You might also enjoy: The most unique accommodations around the world